Educational Use, Corporate Events
Teachers and educators from publicly funded schools looking to create a lesson plan using Keep Talking and Nobody Explodes.
Organizers of internal corporate events who want to play the game at a company party.
Charity event organizers who are looking to fundraise for registered non-profits.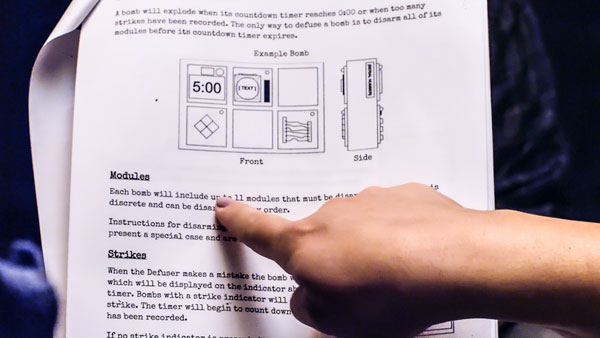 Non-Commercial Use
We're often asked if Keep Talking and Nobody Explodes can be used in classrooms or at company events. You are welcome to do so provided that:
you are

not charging

 people to play and

;
a license is purchased for each instance of the game running simultaneously (if you're playing remotely, you will likely need to purchase a license for each player, learn more about remote play)
Please note that the general license does not cover for-profit use of the game. For info on commercial licensing click here.
Playing Remotely
While the game was initially designed as an experience for people sharing the same space, you can absolutely play the game remotely! Learn how to play remotely here.
Popular Buying Options & Bulk Discounts
We offer bulk discounts through Humble Store. This version of the game is DRM-free, which allows you to play without the hassle of logins and passwords.
For details on how to purchase and install the game from Humble, click here.
How many licenses will I need to purchase?
You only need to purchase one license for each instance of the game that you run at the same time. For example, if a class with 20 students breaks into groups of 4. There will be 5 games running at once, requiring the purchase of 5 licenses.
We offer bulk discounts from Humble Store here.
Our school uses Chromebooks. Will Keep Talking and Nobody Explodes run on a Chromebook?
No, Keep Talking and Nobody Explodes will not run on a Chromebook. The system requirements needed to run the game can be viewed at the bottom of the Humble Store page.
Can I purchase Steam keys in bulk?
Yes. Purchasing licenses through the Humble Store widget below will give you access to a DRM-Free version, and your choice of a Steam or Oculus Store key for each license. 
Will this license cover commercial use of Keep Talking and Nobody Explodes?
No. You can find more information on commercial licensing here.
BULK PURCHASE DISCOUNTS
WINDOWS MAC LINUX
Single License (No Discount)
JOIN THE FAN CLUB, BE FIRST TO HEAR
NEWS & UPDATES
JOIN THE FAN CLUB, BE FIRST TO GET NEWS & UPDATES